Masser 5-Miler
Greetings from the Delaware shore. The whole family is spending the Memorial Day weekend in Dewey Beach. As part of this weekend I ran the Masser 5-miler today, put on by the local running club, the Seashore Striders, in the neighboring town of Lewes.
<>C and I got to the staging area, a local high school, at a little after 8.
She chose to cheer instead of participate today.
The morning, even at , was sunny and warm for the 200 or 300 race participants who lined up at the start on the school's smurf-blue colored track.
Knowing nobody, I checked out the folks around me to see who looked fast.
Only one guy impressed me as such, he was doing wind sprints from the starting line and had on a lifeguard shirt.
I also caught an older guy squinting at my race bib, no doubt checking my age.
When the gun sounded I tucked in behind the lifeguard to draft against the wind. We ran about halfway around the track and then out and around the school parking lot and onto the road to Lewes, a small coastal town. I hung with lifeguard, and by the mile mark we were both overtaken by the older guy. Mile 1 went by in , which felt like the mile marker might have been short. Regardless, I had to decide whether or not to speed up with older guy. I played it conservatively and focused on keeping pace with lifeguard. I pulled ahead of him and he drafted off me for the second mile, which passed in . Soon after the second mile lifeguard started to fall back and older guy, while still in sight, was a good 30 seconds ahead of me. Mile 3 went through "downtown" Lewes and passed in . I tried to pick up the pace and get closer to older guy, but I wasn't gaining on him. Lifeguard was no longer a threat. Meanwhile we were back out on rural roads, running into what seemed a perpetual headwind on a wide shoulder with a series of cones separating us from the traffic on the road. Second place was by now more or less preordained, and I made a half-hearted attempt to pick up the pace which resulted in a 5:35 split for mile 4 and then, after retracing our steps through the high school parking lot and back onto the ugly track, I sprinted all out at the end to finish in just under 28 minutes: 27:58 (5:42 split).
Top 6 reasons I was happy with this time. 6) I am not currently in any kind of racing shape since Boston; 5) it was 15 seconds off my (admittedly soft) 5-mile PR; 4) it came in the wake of a hard 16 mile run yesterday; 3) the sun and headwind provided conditions remarkably similar to Boston; 2) the winner was, indeed, 44, suggesting I have at least three more years in which to get faster; 1) it prompted C to take me out for oyster shooters afterwards.
Notes:
I got interviewed by a guy from the local newspaper, who judging from his questions, probably provides more intelligent race coverage than the Inquirer usually does.
The race registration featured a weigh-in to determine eligibility for the Clydesdale and Filly divisions, a race within the race for the, ahem, larger race participants (190+ for guys, didn't catch the female minimum weight).
They also had a passel of trophies for them, which were like regular running trophies but also had large horses on the base (Budweiser should sponsor this).
A series of kids races on the track followed the 5-miler (my kids both stayed in our rental), from the 25-yard "diaper dash" all the way to a mile for 11-12 year olds.
The future of US running will emerge from such races.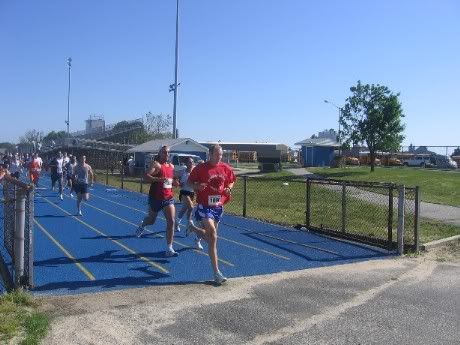 At the start, coming off the world's ugliest track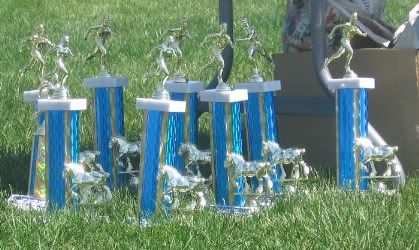 Clydesdale awards